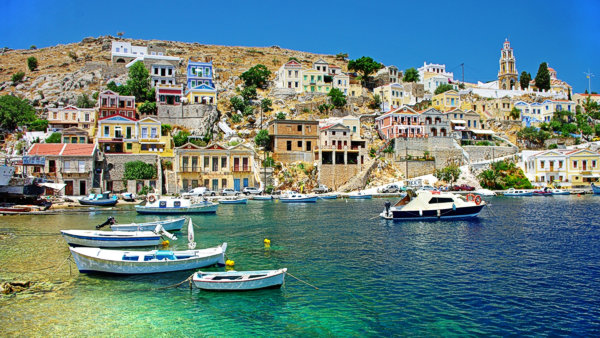 | | |
| --- | --- |
| | ABOUT THE REGION |
Greece is located in the South-East part of Europe, on the South end of Balkan Peninsula. This country has one of the longest shoreline in the Mediterranean Sea. In addition to mainland, it consists of numerous islands scattered in the Aegean Sea and in the Ionian Sea. Great location with warm climate makes this country one of the most popular vacation destinations in Europe.

30 million people visit Greece every year, which puts this country to the 16th place in the world in terms of annual number of tourists. In addition to being a great vacation destination, Greece is also attractive to tourists due to its reach culture and history, with lots of ancient monuments and sites from the antique era.

Besides, Greece is a developed European country with high quality of life, taking the 29th place in the world's ranking. It is a member of European Union.

| | |
| --- | --- |
| | WHY GREECE IS ATTRACTIVE TO EXPATS |
Greece is a wonderful place to live and to run a hospitality business.

Mild warm climate combined with a developed infrastructure and the high living standards makes the life in this country very comfortable and enjoyable. And, as an additional bonus, it offers a simplified process of obtaining residency by foreigners with purchasing a real estate.

An influx of tourists visiting Greece every year is a driving force behind the thriving hospitality business in this country. This fact provides a great opportunity to expats who would like to earn extra income while living in Greece.

| | |
| --- | --- |
| | THE BEST TIME TO VISIT AND STAY IN GREECE |
Greece is an ideal place to live in for those who is not tied to a particular place and who can work or run business remotely.

Due to hot and dry summers and mild winters, Greece offers comfortable living conditions all year round. This gives expats more flexibility in planning their work/vacation schedule depending on their needs.

Those who just need a nice beach vacation with warm sea, can spend their summer time in Greece. Those who want to escape cold winters can appreciate the warm weather during winter time in this region, which is more like the early fall season in Northern countries.

Overall, Greece is a comfortable place to live any time of the year.

| | |
| --- | --- |
| | HOSPITALITY BUSINESS IN GREECE |
Most income in the hotel industry in Greece is made during the high season, which usually runs from April to November. Therefore, if you plan to run a hospitality business in Greece, you should count first of all on the summer time.

If you are not planning to spend time in Greece during the hot season, you can rent your property out or get a local property management company take care of everything. This works for those who prefer to live in Greece when the weather is cooler.

If you would like to live in your property during the high season, you can use it as Bed&Breakfast renting out spare rooms. This can get you enough income to cover your living expenses for the rest of the year when you can enjoy having the entire property to yourself.

This scenario works well for Greeks who own additional properties in vocational spots. They live in their vocational properties during high season and use extra rooms for running a hospitality business like B&B. And they come back to their home (mostly apartments) in big cities after the high season is over.

If you are interested in running a hospitality business all year round, then it is probably better to buy a small hotel in the areas around historical sites that attract tourists from all over the world.

| | |
| --- | --- |
| | PROPERTY SAMPLES |
| | |
| --- | --- |
| | CLIMATE |
The hottest months of the year in Greece are July and August.
The average temperatures around Athens rise up to +29+34C. The water warms up to +25C. Also summer is the sunniest time of the year.

The coldest weather is in January-February, when the average temperature is around +10C. Winter time is also the rainiest season with most precipitation in December.

Swimming season runs from April to November. It is a little bit shorter in the areas around Athens and Thessaloniki: from June to the middle of October.

| | |
| --- | --- |
| | LIVING IN GREECE |
Greek government is interested in attracting foreign capital. That is why the conditions for visiting, staying and obtaining residency in Greece by foreigners are more favourable and flexible comparing to other European countries.


Visas, immigration and residency

Citizens of the USA and Canada do not need visas to enter Greece. They are allowed to stay there up to 90 days in every 180 days of the year. In case if you want to be able to stay in Greece unlimited time and travel to other European countries without time restrictions, you need to obtain residency in Greece.

There is a simplified process for obtaining status of resident if you buy a property worth not less that ˆ250,000. In this case you are getting a resident status for 5 years with an option to extend it.

Another option of obtaining residency in Greece is by confirming your minimum monthly income ˆ2,000. With this option you are getting a resident status for 2 years with an option to extend it to another 3 years.


Health care in Greece

Health care system in Greece is fairly good. All emergency services are free to everybody including foreigners. Any other health care services, including services of private medical clinics, are chargeable, and can be expensive. If you want to avoid substantial health care expenses, it is recommended to buy health insurance.


Property ownership in Greece

All foreign buyers have equal rights with Greeks when buying property in Greece. Foreigners can own as many properties as they want, including residential, commercial, industrial, agricultural and other types of properties. Purchase can be made either to personal name or by a company.


Taxes

Expats with status of permanent resident in Greece need to pay taxes on the entire income obtained both in Greece and overseas. Those who don't have permanent resident status, pay taxes only for the income earned in Greece.

Tax rate for corporate income is 29% (in 2015)

Tax rate for personal income is calculated based on progressive scale:
25% for the first ˆ20,000
29% for the income from ˆ20,000 to ˆ30,000
37% for the income from ˆ30,000 to ˆ40,000 and
45% for the income above ˆ40,000.